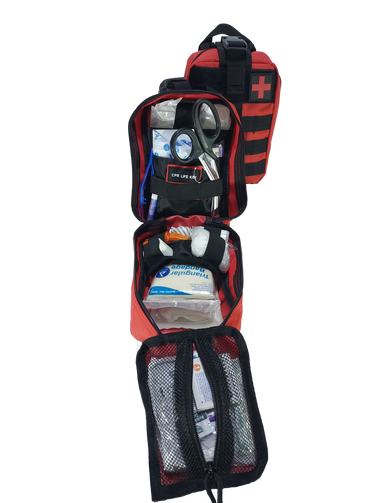 ELITE - $100.00
ELITE - $100.00
Regular price

$100.00 USD

Regular price

$100.00 USD

Sale price

$100.00 USD
The ELITE is the perfect choice for a variety of outdoor activities. Whether you're camping, hiking, or RV-ing, this lightweight and economical product has all the features you need, and none of the ones you don't. With its quality construction, the ELITE is a great option for your daily adventures.
DESIGNED FOR IMMEDIATE RESPONSE: Respond quickly to control bleeding at the scene until professional medical care arrives. This ELITE contains the essentials you need to treat trauma in a quick-to-deploy format. Inside, you'll find everything you need to control bleeding.


COMPACT & LIGHTWEIGHT: Have the tools you need to stop severe bleeding wherever you go. The ELITE weighs under 2 lbs. and is small enough to fit just about anywhere. 
WATER RESISTANT BAG: Have confidence this ELITE will keep its vital contents ready to use at a moment's notice. The "Rip-Away" bag is water resistant and incredibly durable. It has 3 different mounting options to mount your ELITE in any situation.
Contents:

2 - 2"x2" Sterile Gauze
4 - 3″x 3″ Sterile Gauze
4 - 4″x 4″ Sterile Gauze
2 - 5″x 9″ Abdominal Pad
2 - Oval Eye Pads Sterile
2 - 2"x 3" Gauze Pads
2 - Rolled Gauze
1 - Trauma Blood Bandage
3 - Sting & Bite Wipes
1 - Emergency Blanket
1 - Shears
2 - Lip Balm
1 - Medical Tape
1 - Nitrile Gloves
1 - Tweezers
1 - Triangle Bandage 
1 - Wound Packing Gauze
1 - CPR Face Shield
1 - Mini Sharpie Pen
1 - Liquid Skin
1 - 1oz Wound Wash Saline
16 - 1x3 Cloth Bandages
5 - Junior Bandages
3 - Patch Bandages
3 - Knuckle Bandages
3 - Fingertip Bandages
3 - Butterfly Bandages
3 - Spot Bandages
3 - PVP Prep Pads
3 - Antibiotic Ointment
3 - Alcohol Prep Pads
3 - First Aid Burn Cream
3 - Hydrocortisone Cream
3 - Antiseptic Wipes


We reserve the right to add, substitute, or delete items if necessary

Couldn't load pickup availability